Updated. Click here for the main world images.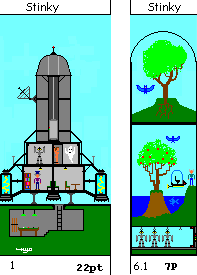 I have converted my house into a space ship and moved the one tree over to my other land, along with the birds.
Mort
Land #18 had 7 points.
+5 points for Rock's last update.
+2 points for your update.
Total for land #18: 14 points.
Land #13 still has 20 points.
KatNorth
Previous points: 8?
+3 for the update.
Total: 11 points, I guess.
ChibiJess
Previous Points: 25
+5 for the update.
Total: 30 points.
rkolter
Total points: 15
Me:
Previous points: 24
+5 points for the update
Total:29 points.
There is no more free land in World Image 1! It all belongs to someone.