I had an idea for a thingy, and since there seems to be a lot of interesting stuff happening on the forum lately, now seems like a good time to try it. (We may have done something like this in the past, but I can't really recall.)
Anyway, the idea is basically like a Jam, only instead of a bunch of people taking turns drawing the next comic in a story, we each do a single panel. Nice an quick-like, so no one has the excuse to say "Oh man, I'd love to get in on this, but I'm just too busy."
Rules:
1. In order to avoid confusion, you should make a post claiming an upcoming panel, i.e. "I call the next one." so as to avoid having more than one person trying to do a panel at the same time. If someone has already called a panel, feel free to call the next one, but obviously you won't be able to draw it until the previous person has posted theirs. Once you finish your panel, edit your "calling it" post and add in the panel, so everything stays in order.
2. The idea is to keep things moving quickly, so you shouldn't call a panel unless you'll have time to draw it relatively soon, say in the next few hours.
3. Try not to God-Mod. It's okay to get creative and take things in weird directions, but don't deliberately do something to negate another persons entry.
4. There's no size restrictions, but keep it reasonable. A single small panel or two.
And now to kick things off: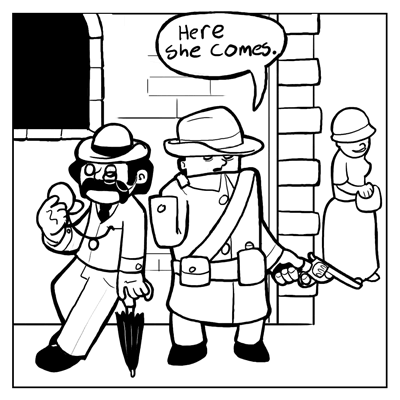 Wonder what these two enigmatic gentlemen are up to? Well don't look at me, I have no idea. That's up to the next guy.