I've recently
(today)
rediscovered painting. For the last few years, I sticked mostly to drawing illustrations and different methods of comicmaking, but today I spent most of the day painting and - surprise - I'm having fun doing it. Making a thread about it in here seemed like the next logical step. I don't KNOW why. Maybe because 8:1 seems like the type of comic to attract the type of people that paint.
So, any of you doing any painting? What kind of colours / techniques do you prefer, and what style?
The paintings I made today are gifts for some of my family members, so I tried to paint something I tought they would like having on their wall; it's not neccessary a style or motive I'd paint if I simply painted for fun.
This one's for my Dad. It's a portrait of all his offspring. Inspired by pop art, as you probably can tell... Acrylic on canvas. Unfortunately, I can't seem to be able to take a non-blurry picture of it with my cell phone.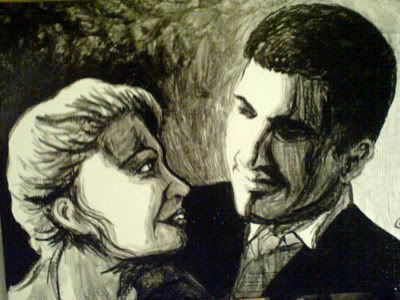 This one is a portrait of my brother and his wife. Didn't turn out quite how I wanted it to, mostly the shading on her face... difficult lighting... and I messed up her chin a bit. But if I'd try to fix it now, I'd probably end up having to redo most of it.
Also, it's acrylic on canvas... with a lot of water.
Anywhoo, let's see them paintings. Or discuss. Or whatever.