I apologize for entering so brashly in a forum where I am not known, but I guess it is only fair to post these pictures here too. Since there's nobody in the house who can draw, I hope you forgive me using City of Heroes to create pretty pictures of my two favorite superheroes.
Click here for larger picture
The above was my first attempt but it showed LB from an unusual angle, not easy to recognize. Thus my second attempt was born: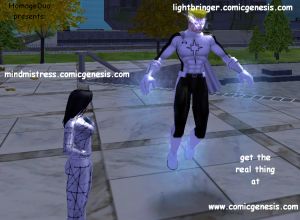 Click here for larger picture
Let me assure you that I am not running around in the game pretending to be Lightbringer. I have chosen a vaguely similar name which will probably only be recognized by obsessed fans ("Brightfinger" actually) and play on a server where I have spare Halloween costume slots so that I can use another uniform when I'm not taking photoshots. I hope this is good enough.