The common room of the Wendigo floor, or house as it's been named since the recent rise of a certain series of book, is an odd collection of knickknacks and toys. A large flag hangs over the back of the largest couch in the group. The snarling stylized head of a Wendigo the houses symbol. Overstuffed chairs are scattered about in a loose semicircle, with beanbags and oversized pillows filling the gaps. The carpet is buried somewhere under the scraps of rugs and fabric piled on the floor, but brave students have been lost in search of it.
The walls about the room are covered in shelves crammed full of books mostly fantasy, sci fi but a few with titles like "Lusty Knights" and "Grin and Bare It". The board games stuffed on the bottom shelves show heavy use as well, seemingly well covered by spots of beverages from the large bar.
Sitting in the only leather recliner in the room is Talbon, he's artfully draped over one edge and looks upside down at Fosa who chatting with him, something about 'fresh meat' the two quiet as the first people enter the room, Talbon and Fosa look with two pairs of predatory eyes at the newest arrivals.
_________________
Artist of PDI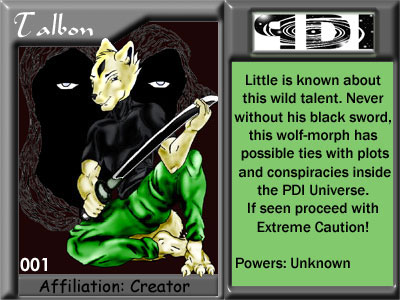 <font size=-1>[ This Message was edited by: Talbon on 2002-04-19 21:37 ]</font>
<font size=-1>[ This Message was edited by: Talbon on 2002-04-19 21:41 ]</font>